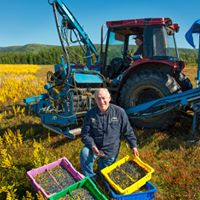 Margaree Wild Blueberries
Address: Cape Breton Farmers' Market Sydney, NS,
Email Address: margareewild@gmail.com
Phone: 902-295-0654
About Us
Margaree Wild Blueberries Delicious and Nutritious! One of nature's many gifts to the Margaree Valley. The wild North American Blueberry is naturally abundant in this area of the Cape Breton Highlands. Here at Margaree Wild, we take what nature has provided and help it make its way to your pantry. Packaging the fruit in conveniently sized corrugated cardboard wax lined food grade boxes allows us to provide the natural frozen product year round. Our five-pound boxes fit conveniently in your home freezer. From our wild blueberries, we also make wild blueberry juice. Yummy and nutritious. To make juice, we press our berries to extract the pure Juice. There are no additives or preservatives. The operation is owned and operated by the MacDonald family.